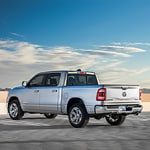 If you're looking for a "pickup" truck that lives up to its name, the RAM 1500 is your best bet. The RAM 1500 is a popular light-duty pickup that has many impressive capabilities that are sure to wow you.
Built from robust and high strength steel metal, the new RAM 1500 was made for power. It can haul up to over 12,000 pounds of equipment and can carry a payload of up to 2,300 pounds, making it perfect for workers needing to transfer supplies or cargo from one area to the next. In addition to its shocking strength, the RAM 1500 also provides drivers with a multi-accessible flatbed that can open from multiple angles to allow your loading process to take place smoothly.
With all that the RAM 1500 has to offer, it is safe to say that this truck is truly in it for the long haul. Whether you need it for yourself to to assist someone else, the RAM 1500 has all you desire out of a pickup and then some.